Our Mission
The Fred J. Hansen Peace Chair collaborates across campus to amplify research and teaching about peace in numerous disciplines; partner with campus organizations to offer peace-related programming and activities; strengthen relationships in the broader San Diego/Tijuana social justice communities; and convene noted scholars and practitioners to develop "best practices" for peacebuilding. It also helps to facilitate student internship opportunities in peace-building and social justice.
A Message from the Chair

Peace is the fruit of justice
In the wake of the COVID-19 pandemic, amid a global moment of racial reckoning, and within the clutches of an environmental crisis, work for peace and justice is as urgent and challenging as ever. The Fred J. Hansen Peace Chair is one of SDSU's platforms to engage with, and contribute to, the work for justice and peace that is happening in our local San Diego and Tijuana communities, as well as in the wider world. As we move into an unknown time of the on-going effects of the pandemic we are also faced with deepening political polarization, the dangers of racial supremacy and gender discrimination, and extreme economic injustices that threaten the well-being of millions and maintain systems of structural and political violence around the world.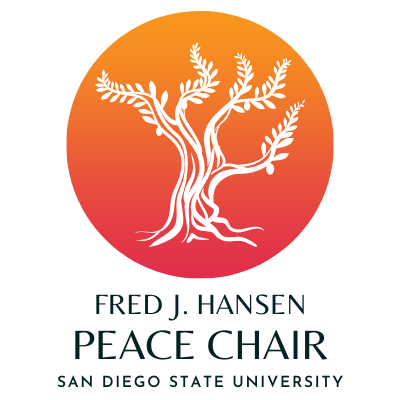 Stay Connected